Warehouse Shelving
Our selection of warehouse shelving,
warehouse storage, or
industrial storage can help get your warehouse facility ready to do business. Check out our range of warehouse shelving & storage solutions to help you stay organized.

The strength of any distribution center, warehouse, or other industrial area is the quality of storage it uses. It doesn't matter how large or small your inventory, no matter how much warehouse space you have for shelving, we have the industrial storage solutions best for you.
When you are designing your companies warehouse shelving one of the first tasks will be to choose the type of warehouse shelving you will need for each area of heavy-duty shelving.
What Is The Difference Between Racking And Shelving?
There is a very simple difference between racking and a shelving system. You may use the words interchangeably. Often without realizing that there is a stark difference between the two and the fact they are totally different. Most warehouses have some sort of storage system. It creates efficiency and organization within the warehouse if implemented correctly. In some warehouses, the storage system may consist of both racking and shelving systems.
Shelving Systems
Warehouse Shelving comes in a wide variety of sizes and storage loads. We carry anywhere from garage shelving to warehouse metal shelving. Can store anything from cans and inventory to machinery and tools. All metal shelvings have adjustable shelves so you can select what height you want them to be to best store your product. Our metal shelving is primarily steel shelving which contains the best durability and sustainability, this gives customer satisfaction and allows them to use the metal shelving for a highly extended period amount of time.
We all know what a shelf is. Whether it is a cabinet shelf storing books or an industrial shelf storing tools. The use of industrial shelving is a great option in warehouses and workshops.
Almost always, the #1 use of shelving systems is to store items that will be accessible by hand. Items may include books, boxes, and small parts. Shelving systems are usually a lighter duty system than a racking system. Meaning that it can sustain lighter weights than racks.
There are Three Types of Industrial Shelving That We Offer
| | | | |
| --- | --- | --- | --- |
| | Particle Board Shelving | Steel Shelving | Wire Shelving |
| | | | |
| | | | |
The materials your shelving is constructed from are very important because some forms of racks need to withstand more contact with heavy times than others.
The first style of shelving is particle board shelving. Easy to assemble, suitable for most warehouse applications. The only disadvantage is not being able to hold liquids because it can deteriorate the particle boards.
The second style of shelving is metal shelving. Easy to assemble, an excellent choice for storing liquids. Met0al shelving is the most expensive.
The final choice is wire shelving. Again easy to assemble, an excellent cost-effective style of shelving. The disadvantage is you can't hold small loose items that will fall through the wire mesh holes.
Made of durable steel wire, wire mesh shelving supports a considerable amount of weight and is also very lightweight, which means it is very easy to move. Because there is less surface area, wire mesh shelving is not prone to rusting or collecting dust and mold. It is the ideal choice for smaller, de
licate merchandise and food.
With our recommended shelving solutions and hands-on experience with finding the right shelving for the job, your warehouse will be better organized than ever before. Browse our shelving website, and give us a call, we will be happy to work out what you need, or help with your own design.
Choosing the right shelving is crucial to improve and maximize the performance of your warehouse.
The right shelving will help improve workflow and easily make a large increase in storage space. The correct shelving will reduce product damage, and increase profitability.
The type of warehouse shelving that's chosen is integral to your budget as well as the organization and flow of your products. Being able to find shelving that installs easily, is durable, and affords you some flexibility shouldn't have to be a frustrating process. A.I.T. Industrial Shelving can help you easily find warehouse shelving that suits your warehouse and products needs.
Our metal shelving is designed to safely store heavy and light-duty loads on them, increasing stability and versatility allow metal shelving to be used across many industries and businesses to store items and products.
Plan out every section of your warehouse. Work out your storage goals, ask yourself how much space does each section need? What are the specific requirements of each section that must be addressed in your design? What ways do you have to increase the area's capacity?
Depending on your available floor space, the types of materials you handle, and the need for rapid accessibility, you may find one storage rack is more suitable than another.
If you are working with larger and heavier goods, a pallet racking system may be the best option for you. Alternatively, if your staff work with merchandise that they pick by hand, a smaller shelving unit or even a mobile unit may be more appropriate.
Popular Styles of Warehouse Shelving Systems
We sell shelving systems in many configurations and can hold goods of varying shapes and sizes. You can purchase heavy-duty options, lightweight designs, and mobile versions depending on your product needs.
Pallet Storage Racks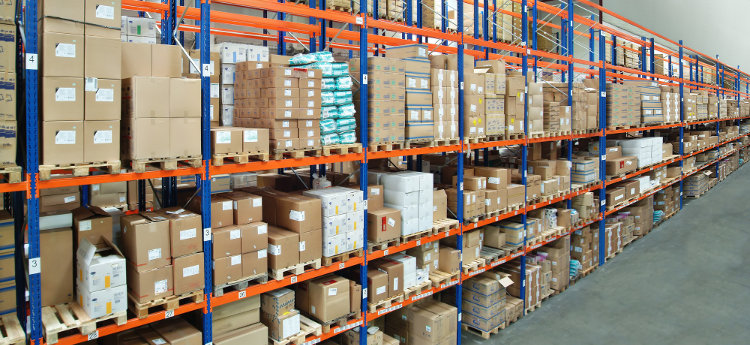 We find Pallet racking systems to often be the best choice. They are one of the most popular types of storage because of their versatility, they can handle large and small goods, and are quite cost-effective. With
several different types of pallet racking
available,
often a combination of racking will be the best choice.
Rivet Shelving

Rivet shelving is not as strong as pallet racking, but rivet shelving offers a high-strength storage shelving choice to organize anything up to heavy goods on. Rivet shelving is popular for storing merchandise in cartons. With wide upright frames and a high-strength secure connection for every shelf, it's perfect for many different applications.
Selective Pallet Storage Racks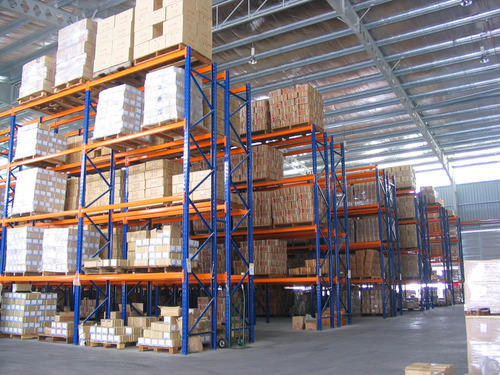 Selective pallet racks get their name from the access they give to the picker, he or she can select any pallet from the shelving without moving any others out of the way first. If you have limited storage space, you can build these racks vertically using the ceiling height, increasing your potential storage without using more floor space.
This form of storage shelving is simple to put together, simple to use, and modular by design so you can add or remove sections, depending on your current shelving requirements. This storage solution is perfect for many situations like if you work with seasonal goods, you can free up floor space when business is quiet, and then build the racks up again during busy periods.
Shelving Storage Racks


We sell shelving systems in many configurations and can hold goods of varying shapes and sizes. You can purchase heavy-duty options, lightweight designs, and mobile versions depending on your product needs.
Steel Shelving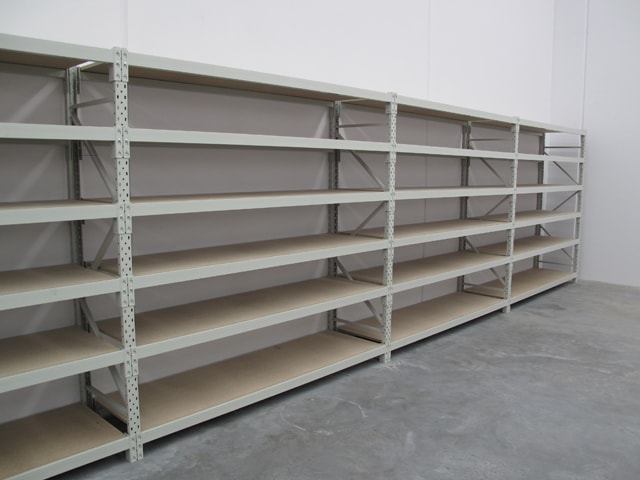 Best for light to medium weight merchandise, steel rack shelving is an excellent option. Your employees will easily be able to assemble, disassemble, and change the location of the shelving around the warehouse according to the shifting storage requirements.
Steel shelving is assembled to the frame using a simple clip design. Steel shelving is best for smaller and medium-size merchandise your staff accesses regularly.
When merchandise will be moved around the warehouse or store, mobile shelving solutions are the best. Mobil shelving runs on wheels and is a great choice for quickly moving merchandise around, or loading on a truck to bring to a different location. Since your staff can take a full mobile shelving unit along with them, it cuts down on the time necessary to transport multiple items.
Cantilever racks have strong, steel uprights. Then angled arms come out of each post to provide the support for materials. The arms incline slightly back toward the posts to ensure goods won't fall off. Available in both single-sided, for against a wall, or double-sided for a more central location. While these are so important for storing certain materials, they can be expensive and take up considerable warehouse floor space.
Cantilever racking is one of the best methods for storing very long items like piping, lumber, or carpeting. Cantilever racks are also excellent for holding oversized or awkwardly- impossible to hold merchandise like rolled steel, spools of wire, or coaches and other furniture.