Pallet Rack Beams are the horizontal weight-bearing structures that connect the rack vertical uprights to each other. Pallet rack beams come in different lengths and sizes depending on the size of the pallet racking needed and the weight and dimensions of the items that will be stored on the racking.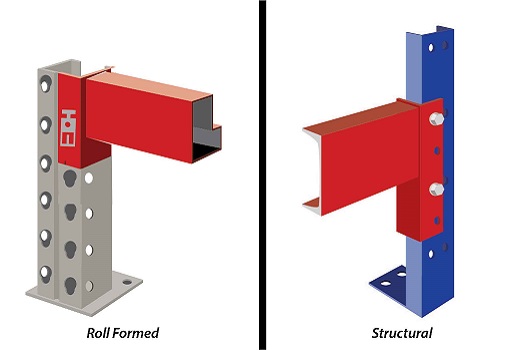 Roll-Formed Beams
Manufactured in both roll-formed configuration and Structural Bolt-together configuration made of heavy strength steel with reinforced channels. Roll Formed is a less expensive Beam manufacturing process but they are weaker than Structural Formed beams. Roll Formed should only be used for lighter weight shelving capacities.


The Importance of Shape In both hot-rolled structural steel and cold roll-formed sheet, the shape is the key factor for load-carrying ability. Different shapes have vastly different capacities even though their weight per foot may be identical. Maintaining the original design shape of each component is important for any rack structure to perform safely and satisfactorily.


Gauge Thickness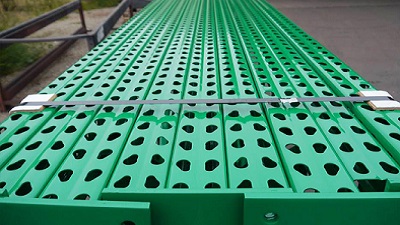 Early roll-formed rack, was manufactured from 12-gauge steel and the 3" x 1-1/2" C-columns weighed about 2.2 pounds per foot. Then the racking started to get higher, ranging up to 15 feet and beyond.
However, the sheet steel often got thinner, some used a "light" 12-gauge at 2 pounds per foot and others 13 gauge at 1.85 pounds per foot. Later under competitive pressure at bid time, some manufacturers went unabashedly to 14-gauge at 1.6 pounds per foot.
Many of the popular standard racks are made this way today. (Catalogs often show the heftier 3" x 3" and 3" x 4" heavy-gauge roll-formed posts, but these are rarely offered or sold. |


Structural Steel Beams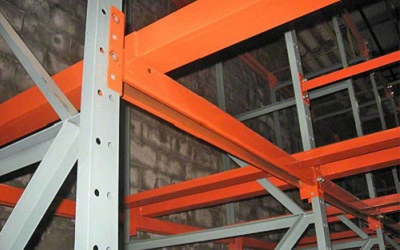 Hot-rolled structural steel is the same material used in steel bridges and buildings. Racks are designed in accordance with the Standards of the American Institute for Steel Corporation. What is the justification for the higher material and labor costs inherent in structural steel racks, when lighter, less expensive roll-formed racks can carry a required load under ideal conditions?
Abuse resistance, repairability, and safety justify the extra initial investment. Abuse Resistance Rack damage by lift trucks is the prime cause of rack failure and rack maintenance costs. Structural steel sections are not as dependent on exact maintenance of shape for load-carrying capacity as are roll-formed sections.
Structural steel will deflect more than roll-formed before it gets a permanent bend or dent. Even when there is enough impact to bend a flange, the web and other undamaged flanges will carry 80% to 90%of the design load. The same impact on a roll-formed C-post is likely to reduce capacity by 60% and may very well result in total collapse.
Damaged structural steel can be readily straightened and restored to "good-as-new" condition. It is thick enough to be welded by an ordinary welder. Repairs can often be made on the spot, by bracing the loaded rack and proceeding with the corrective work.
Damaged roll-formed sections are virtually impossible to straighten. Applying a straightening force simply produces another bend or dent. Roll-formed shapes are too thin for ordinary welding. Furthermore, the higher tensile strength of the steel may be lost in the weld area and the repair can be as fragile and brittle as glass. Even if replacement sections of roll-formed uprights were provided free, the cost of unloading, disassembling, replacing, and reloading the racks would make this corrective work very costly.
Summarize Roll-Formed Steel Beams or Structural Steel Beams?
Roll-formed steel shapes are cheaper to buy and do efficiently use each pound of steel. In day-to-day high-volume operations, roll-formed shapes are more easily damaged and more difficult to repair than structural steel. For heavy-use multiple shift operations, high rack systems, and medium to heavy loading, the extra investment in structural steel pays for itself in a very short time.
.